Termites in Brisbane – If you are a Brisbanite and the owner of the property you maybe curious to know what areas are most affected by termite activity. In this article, we will not only tell you where the hotspots are. We will also explain why some home may be more prone to other properties.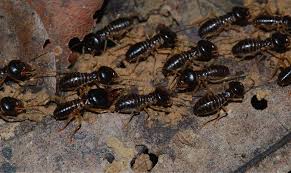 Before starting the article, we need to mention that termite prevention is fairly easy these days. You should also find it cost effective. Termite inspections for property owners should be done annually. If you are in a hotspot It may be advisable to get bi-annual inspections.
The smart way is to find a pest control company that specialises in termites in Brisbane. This way you can nip all solutions in the bud. You may have issues you are not aware of.
Booking in the winter is also a good move as pest controllers in Brisbane are busiest in the summer. Termite season starts in spring so by getting it done in winter is the way to go.
What is the Cost of Termite Damage in Australia?
Termites are truly devastating as some unlucky property owners may tell you. Termites cause a whopping $1.5 Billion per year in damages across the nation. This includes termite treatments & structural damage.
The CSIRO at one stage estimated the at least 35% of homes in Australia are or will be affected by termites. That's pretty incredible when you think about. The CSIRO is no longer doing research into termites or giving advice to homeowners. https://www.csiro.au/en/Contact/Frequent-enquiries/Pest-control
The best thing to do these days is to find a pest control company you can trust. Like having a family doctor or solicitor. You should have a good relationship with a local pest control company.
What Is The Nature of Termites & How Do They Migrate?
When a colony reaches a certain size, its time to break away and look for a new home to sustain the species. Keep in mind termites are a distant cousin of the cockroach and tend to breed in similar ways. However, unlike the cockroaches, we know all too well in Brisbane. Termites love eating wood!
Termites Can Travel Great Distances
Termites are most active around springtime in Brisbane. They then make use of the winds to seek a target for a new home. For example, if anyone within a 5km radius of your property has an infestation and you live in a hotspot. The odds of you getting an infestation just shot up through the roof.
These creatures will target the structure of your home. Most of the time you will not even know you have activity until its too late. Termites work quietly this another reason they are so devastation. These insects are highly evolved and once they have found a new home. It's going to be up to you to get rid the, they won't ever leave until they are good and ready.
What Areas in Brisbane are Hotspots for Termite Activity?
When it comes to termites in Brisbane, I suppose we are slightly in a better position than residents in the northern parts of the state. Saying this there are some real horror stories that are plainly sad and could have been prevented.
The Western suburbs of Brisbane has been an area of concern for many years. Brookfield is one of the most exposed suburbs on the Westside of Brisbane. Brookfield and the close surrounding suburbs get hit with termite activity every year.
Other key suburbs include:
New Farm
Bulimba
Ascot
Auchenflower
Chelmer
St Lucia
Fig Tree Pocket
Paddington
Clayfield
Balmoral
Hawthorne
Hendra
Ashgrove
West End
Bardon
Indooroopilly
Graceville
Grange
Bridgeman Downs
North Lakes
Warner
In the Northern suburb's places like North Lakes, Warner and Bridgeman Downs have a history of heavy termite activity.
When it comes to places closes to the centre of the city there have been many cases of heavy infestations. These figures are probably higher due to these suburbs having a higher amount of houses made from timber.
What Reasons Attract Termites to a Home in Brisbane?
If you look at the above suburbs you may see a fairly common thread. Homes that are located near the bush or more plant life are more susceptible. For example, a simple garden bed can attract termites by using common bark.
Saying this it's by no means the be-all and end all of why any said property will be attractive to a colony of termites.
Studies have shown that one of the main factors for colony action or in layman's terms why a house is chosen is due to age. As house ages so do the chance of getting a termite infestation. There are a few reasons why this could occur.
The first reason is that when houses are built the wood is treated. As time goes on the chemicals become weaker and therefore lifting the veil for attacks.
More Concerns with Aging Properties Attracting Termites
Aging properties having aging pipes which in turn lead to leaking pipes. The knock-on effect continues, moisture leads to a whole array of issues in the home from mould, roofing problems, ceiling issues and of course termite activity.
Some other points of interest ma be that if you are using timber retaining walls, these will age with time. As mentioned earlier homes closer to bushland can be affected as trees age. They make for a perfect nest for termites.
Summary on Brisbane Termite Hotspots
If you take these factors into account, then you can see why some suburbs and areas of Brisbane are hotter spots than others.
Although there are no hard statistics some people have related bad building practices to infestations. It may be a good idea to use common sense and remove aging timber from under a house and not letting old piles of wood build up around the home, just to take one less thing out of the termite attack equation.
We hope you found the information interesting.
If you need help with any of the above issues and want solutions call Liberty Pest Control Brisbane on 1300993520 and get expert advice today! Here is there website for more information. www.libertypestcontrolbrisbane.com.au